This Month in Sydney's History
1803
15 May
First authorised public Roman Catholic mass in Australia and first Catholic marriage celebrated in Sydney by Father James Dixon.
1841

May

The first known Australian photograph (a daguerreotype) -- of Bridge and George Streets, Sydney -- is taken by a visiting Frenchman. This "First" is reported in the Australian newspaper on 15 May.
1855
30 May

Mary Reibey dies aged 78. Born in 1777, Molly Haydock is transported to the colony after being convicted of trying to sell a stolen horse. In 1794 she marries Thomas Reibey, an entrepreneurial free settler. Thomas dies in 1811, leaving Mary to manage his business network while raising seven children. She develops her late husband's business into a successful empire in property, trade, retailing and shipping. In 1816-17 she is reputedly worth over ₤20,000. Her portfolio of central Sydney real estate includes the first premises of the Bank of New South Wales. Mary Reiby's portrait is featured on Australia's $20 note. It depicts a somewhat stern woman, whose keen business sense and tenacity allowed her to succeed in Sydney's masculine, emancipist society. Mary Reibey's remarkable life inspires literature such as Catherine Gaskin's novel Sara Dane (1955) and is recounted by her biographer Nance Irvine, Mary Reibey: Molly Incognita (1982). Reibey's letters, which are held in the Mitchell Library, Sydney were edited and published by Irvine in Dear Cousin: The Reibey Letters (1992).
1883
28 May
All-round athlete "Professor" William Miller knocks down champion boxer Larry Foley in the 40th round of a challenge fight in Sydney . The fight is declared a draw after spectators rush the ring.
1907
1 May

Monthly illustrated journal The Lone Hand, published by The Bulletin and edited by Frank Fox, first appears in Sydney . Until it ceases publication in 1921, Lone Hand publishes the work of some of Australia 's finest writers and graphic artists, including J. F. Archibald, Henry Lawson, Norman Lindsay and May Gibbs.
1927

28 May
First greyhound track meeting in Australia held at Epping Racecourse (now Harold Park) in Forest Lodge, Sydney.
1939

18 May
The Minerva (later Metro) Theatre opens in Orwell Street , Kings Cross.
1941
19 May

A memorial plaque to singer Dame Nellie Melba is unveiled at a patriotic concert in the Sydney Town Hall . The memorial is designed by sculptor A. J. Murch and is selected from competitive designs submitted by sculptors resident in NSW. The Art Deco-influenced memorial consists of a sculpted panel in burnished German silver depicting a figure in song with instrumental and natural accompaniment, set in a decorative straw-coloured fire-brick surround, with the base inscribed 'Remember Nellie Melba'.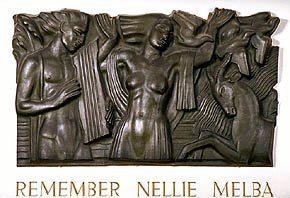 Bas relief, Remember Nellie Melba by Arthur Murch, 1941, (Sydney Town Hall Collection, STHC 292.)
1960

11 May
Futures trading begins in Australia with the establishment of Sydney's Greasy Wool Futures Exchange.
1970

3 May
International terminal at Sydney's Kingsford Smith Airport officially opened by the Queen.
1983

16 May

NSW Premier Neville Wran steps aside while a royal commission investigates allegations made on the TV program "Four Corners " that he attempted to influence the magistracy. The royal commission exonerates Wran and he resumes his position as premier on 28 July. Chief Stipendiary Magistrate Murray Farquhar is subsequently found guilty of attempting to pervert the course of justice and sentenced to four years' gaol on 15 March 1985.
Sources
This Month In Sydney's History is drawn from the following source material:
News clippings and scrapbooks, City of Sydney Archives.
Graeme Aplin, S. G. Foster, Michael McKernan (eds.), Australians: Events and Places, Fairfax, Syme & Weldon Associates, Sydney, 1987.
Anthony Barker, What Happened When: A Chronology of Australia From 1788, rev.ed., Allen & Unwin, Sydney, 2000.
Bryce Fraser (ed.), The Macquarie Book of Events, Macquarie Library, McMahons Point, 1983.
Graham Jahn, Sydney Architecture, The Watermark Press, Sydney, 1997.